www.ADZART.com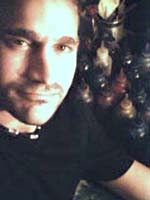 HOWDY!
Glad you could make it to see my place here in cyberspace:
www.adzart.com

My name's Adam Maiale, aka "Adz". I've been putting dye on fabric for nearly 15 years now, and in the last few years have started my Waxworx (batik art). At times I like to paint on canvas, do a mural, play with photography, carve some wood, or whatever. I created this site to have easy access to images of my work and to make it possible for you and other folks to lo0k at them at your leisure. Stop back occasionally; I may change things around once in a while
Feel free to contact me if anything here catches your interest, and you'd like something made. After you see some of my designs, check out my Ordering Info page to see a list of some of the more popular items & garments that I use as my canvases.
Now, I want to take this opportunity to invite you to the Gallery area to wander through the different categories of my designs & to read my introduction to each. There are many photos in each category - all can be enlarged with a click.
PHOTO GALLERY DIRECTORY
MAIN LOBBY of Gallery gives you brief introduction & access to all categories.
THE TIE-DYES - hand-dyed designs on tees, $20-$22.
STRING DESIGNS - string resist tie-dyes on tees, $25ish.
TAPESTRIES - a variety of tie-dye on 5' x 4' rayon, $30-$45.
LADIES SHIRTS - designs on stretchy rib knit cotton shirts & longsleeves, $22-$25.
LONGSLEEVES - heavyweight longsleeved designs, $27-$32.
BED SETS - engulf yourself in tie-dye, $100 & up.
USA COLLECTION - my tribute to 9/11.
WAXWORX - my version of batik art.
OTHER PROJECTS - my other ventures with art.
~ ~ ~ ~ ~ ~ ~ ~ ~ ~ ~ ~ ~ ~ ~ ~ ~ ~ ~ ~ ~ ~ ~ ~ ~ ~ ~ ~ ~ ~
For some fun and informative browsing, click on the fish below, and it will get you to my links...

REQUEST A PRINTED BROCHURE!
I just made a brochure for my Tie-Dyes. I will mail you a couple if you like - you may also request one for a friend.
Click here to email me the address(es).

Thanks for stopping in!
L0ok thru the super comments my friends left, and let me know you were here by leaving a few words of your own.

View My Guestbook
Sign My Guestbook

YOU ARE NUMBER 2000 + TO CHECK OUT ADZ-ART ONLINE.
---
>>> go to the top <<<